The Clinic Bad Ragaz encompasses the following areas of inpatient rehabilitation:
Medical rehabilitation
Following abdominal surgery
For gastrointestinal diseases, including chronic inflammatory bowel diseases, acute and chronic pancreatitis
Kidney diseases, including dialysis
Urogenital operations and diseases
Vascular diseases/vascular surgery, infrarenal and peripheral
Lower limb amputations
Polymorbid patients, two or more organ diseases actively requiring treatment at the same time
Malnutrition: short bowel syndrome, malabsorption, dysphagia (swallowing problems), illnesses causing rapid weight loss and weakness
Following infectious diseases
Gynaecological diseases and following gynaecological procedures
Kidney transplants
Liver transplants
Musculoskeletal rehabilitation
For wear and tear in peripheral joints (arthritis)
Following endoprosthetic replacement or amputations
Following spinal surgery
Following spinal diseases
Following traumatic damage to the musculoskeletal system
For inflammatory rheumatic diseases (e.g. gout, rheumatoid arthritis, spondyloarthropathy, connective tissue disease, vasculitis, etc.)
For non-inflammatory soft-tissue rheumatic diseases (e.g. fibromyalgia, hypermobility syndrome, chronic tendon problems and muscle problems)
For chronic pain in the musculoskeletal system
For bone diseases (e.g. osteoporosis)
For occupational rehabilitation
Targeted development of strength and stamina in 'non-responders' to traditional training methods
Following sports injuries
Rehabilitation in elite sports with sport-specific development (return to sports)
Neurological rehabilitation
Cerebrovascular diseases (stroke, brain haemorrhage, subarachnoid haemorrhage, cerebral venous sinus thrombosis)
Chronic inflammatory diseases of the central nervous system (e.g. multiple sclerosis)
Degenerative diseases of the central nervous system (e.g. Parkinson's)
Neuromuscular diseases (e.g. myasthenia gravis)
Muscle diseases (myopathy, muscular dystrophy)
Damage to the peripheral nervous system (polyneuropathy, critical illness polyneuropathy, Guillain-Barré syndrome, CIDP)
Brain tumours (operable and inoperable)
Rehabilitation and aftercare following neurosurgical procedures on the brain and spine with residual neurological deficits
Craniocerebral trauma
Oncological rehabilitation
Following surgical removal of a tumour or completion of chemotherapy, radiotherapy or immunotherapy
In preparation for treatment of a tumour
For treatment of complications/consequences of oncological therapy
Wound and scar problems
Rehabilitation in the case of physical and mental deconditioning following treatment of a tumour
Condition following initial treatment of a newly discovered oncological disease
Known cancer with newly emerging complications caused by the underlying disease or its treatment, or losses of function
Lack of independence in day-to-day life where cancer is present
State of exhaustion (fatigue)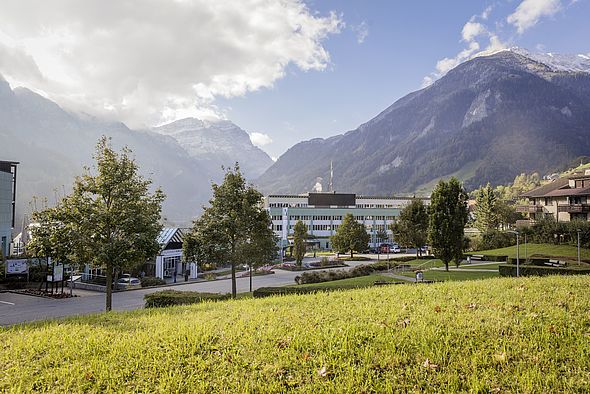 Medical Partner Kliniken Valens
The Kliniken Valens consist of four rehabilitation centres. These four centres are; Valens, Walenstadtberg, Gais and the Rheinburg Clinic Walzenhausen. All are located within pristine Swiss alpine landscapes. Outpatient care centres are located in St.Gallen and Chur. There are close to 1100 people employed in the whole group. The excellent expertise in all areas of rehabilitation and the close interdisciplinary work within the Kliniken Valens group, places us among the leading rehabilitation providers within Switzerland. The Kliniken Valens are specialized in the treatment of patients with functional impairments of the musculoskeletal system and nervous systems and offer neurological, rheumatological, internal, orthopaedic, pneumological, cardiological, oncological, psychosomatical and geriatric rehabilitation.